CB "UNIBANK"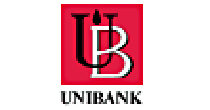 Commercial Bank "UNIBANK" was founded in 1993 in Hinceshti town. It was registered in the main register of the banks under the No.38 dated January 19, 1993. The bank's founders were 48 local enterprises and several individuals. Later, the insufficiency of the regulatory capital required by the national Bank of Moldova led to the changement of the bank's ownership.
At the end of 1997 year the controlling block of bank's shares was purchased by the worldwide oil company "Lukoil". This provided an inflow of financial resources and a new impulse for the bank's development.
On February 19, 1998 "UNIBANK" received the license type "B", which allows to perform a full range of operations in Moldovan Lei and in foreign exchange.
In 1999 the bank was connected to the international interbank settlement system SWIFT.
In 2001 the bank consolidated its technical and material basis, its central office moved into a new building which corresponds to all modern requirements. With regard to the informational technology it started to use «Va-Bank» software.
In March 2002 the bank became the member of the international payment system "MasterCard International" with the right to issue, use and service bank cards of the above mentioned system.
The bank is the primary dealer on stock market of the Republic of Moldova.
Commercial Bank "UNIBANK" is the member of the following unions and associations:
Association of Commercial Banks of Moldova;
Stock exchange Market of Moldova.
On December 27, 2002 the central bank of "Lukoil" company – Commercial Bank «Petrocommerce» (Russia) acquired 100% of "UNIBANK" shareholding. The close cooperation with one of the leaders of the Russia's bank service market gives a range of incontestable advantages to the bank.
On January 19, 2003 "UNIBANK" marked its tenth anniversary since its foundation. Today "UNIBANK" is one of the stable and developed banks of Moldova. The bank is universal considering its range of activity and types of services rendered. Its structure covers the main financial industrial centers of the Republic including 35 points of services rendering, placed near to the clients. More than 180 employees represent the pillar of the bank which allows it to grows and become a financial institution needed by solid clients.
On September 28, 2007 the entire share holding of CB "UNIBANK" is acquired by Austrian Investment Group VIENNA CAPITAL PARTNERS UNTERNEHMENSBERATUNGS AG.
Branch and Representative UniBank
Publication date: 2011-01-04
Read More>>