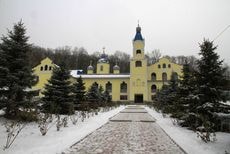 Monastery "Veveriţa" is a recently formed monastic settlement, situated on the outskirts of the village with the same name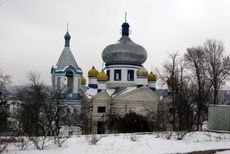 Bocancea Monastery is located in the village of the same name, Singerei district, 105 km from Chisinau, 40 km from Balti.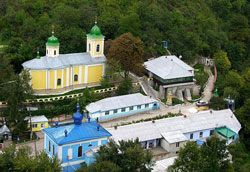 The village is part of the village Saharna New Saharna, Rezina. The monastic complex and the natural reserve covers an area of 670 hectares and is taken under state protection. Saharna monastery itself is situated 8 km from r. Rezina and 120 km from Chisinau.
Construction of the monastery "Holy Trinity" began in 1776, due to the old monastery carved into the rock is too small for the many monks who had gathered. Legend says that the construction was aided by the Virgin Mary, who indicated the place to build the monastery priest. Construction lasted for two centuries, and later, to be destroyed for the most part and be closed in 1969.
Saharna Dniester is the height. Two small rivulets, Stohnaia (6 km) and Saharna (10 km), crosses the eastern part of the plateau, forming a massive natural amphitheater. These small rivers in their lower course, created a lot of canyons, waterfalls and small lakes. Only Saharna River forms 22 waterfalls, the largest of which is the last bend of the river to the east. The highest waterfall, which is called the "Hole Gypsy" has a height of 4.5 m and a depth of 10 m. Throughout history these places have always been populated. In the Eighth century - the sixth century BC, there were Geto-Dacian. The cave near the church is a narrow cave where according to legend, retired in asceticism monk Bartholomew, founder of the monastery.
Not far from the monastery, parallel path that leads to the cave monastery, you can find the source of healing water. This fountain was built right near where, as elders say was "Vavila's Spring" spring water which was very warm winter. Water "Spring Wonderland" today, miraculously helps many people, healing the soul and bodily disease.


HELPFUL INFORMATION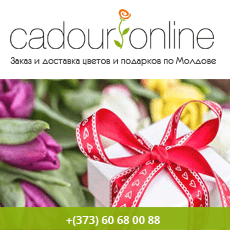 TELEPHONE NUMBERS OF TAXI SERVICES IN CHISINAU
☎14002 ☎14111 ☎14428 ☎14100 ☎14333 ☎14747 ☎14499 ☎14555 ☎14911 ☎14101 ☎14000 ☎14110 ☎14250 ☎14441 ☎14444 ☎14005 ☎14554 ☎14800 ☎14004 ☎14120 ☎14222 ☎14006 ☎14090 ☎14442 ☎14007 ☎14098 ☎14448 ☎14008 ☎14999 ☎14474 ☎14545 ☎14700 ☎14777