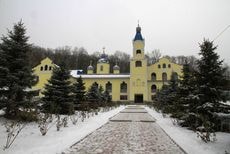 Monastery "Veveriţa" is a recently formed monastic settlement, situated on the outskirts of the village with the same name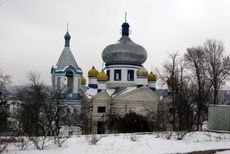 Bocancea Monastery is located in the village of the same name, Singerei district, 105 km from Chisinau, 40 km from Balti.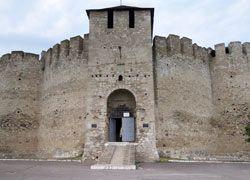 Soroca Fortress is a great value for the Moldovan people, because it retains today in a state of emergency, as it was built by craftsmen of the fifteenth century. The fortress is located on the right bank, in Soroca. Just keep a small military church, located on the central entry.
Soroca Fortress is documented on 12 July and 14 September 1499 Cost Posadnic, Pîrcălab of Soroca. But during the establishment of the city has several hypotheses, as one of the most widespread is that they consider the city of Soroca a "work of the Genoese. Other cerectători says that the current stone castle was built between 1543-1546 by the ruler Petru Rares Bistrita by artisans, but still says that the architecture of the city of Soroca city refers to a time earlier and should date the end of century . XIV - beginning of the century. XV, but this assumption is no documentation that would confirm the hypothesis given.
Following archaeological investigations conducted in 1968-1969 by G. Cebotarenco, where it was found that the city is currently in stone, has been a fortress of wood and other land. There are data that during the reign of Petru Rares, nine city is built of stone, of 15-20 m, which is kept today. Soroca fortress is unique among cities of medieval Moldavian architecture construction system. His plan circular with a diameter of 37.5 m, has four circular towers. After lifting the city, Soroca begins to grow in importance, with an administrative function by the customs and commercial installed here. Thus, we can say that this territory has been a continuity in the construction of cities / castles.
Soroca Fortress signified that time:
a political border, during the middle of the river Dniester, the portion Naslavcea;
commercial olegătură Soroca Fortress under protection;
a link between economic life, in which economic activity had its existence province's population.
Thus, we can say that the city of Soroca was and is a part-medieval European architecture as that wall of defense of Christian civilization against the wild steppes. A continuity of thought, intellect and perfection.


HELPFUL INFORMATION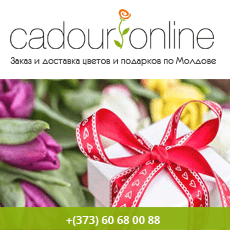 TELEPHONE NUMBERS OF TAXI SERVICES IN CHISINAU
☎14002 ☎14111 ☎14428 ☎14100 ☎14333 ☎14747 ☎14499 ☎14555 ☎14911 ☎14101 ☎14000 ☎14110 ☎14250 ☎14441 ☎14444 ☎14005 ☎14554 ☎14800 ☎14004 ☎14120 ☎14222 ☎14006 ☎14090 ☎14442 ☎14007 ☎14098 ☎14448 ☎14008 ☎14999 ☎14474 ☎14545 ☎14700 ☎14777