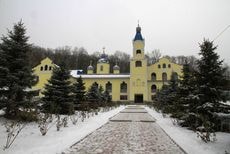 Monastery "Veveriţa" is a recently formed monastic settlement, situated on the outskirts of the village with the same name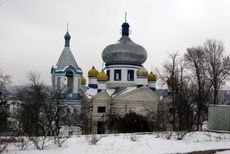 Bocancea Monastery is located in the village of the same name, Singerei district, 105 km from Chisinau, 40 km from Balti.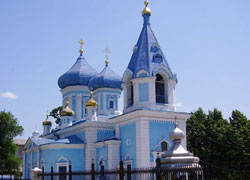 The Ciufea Convent Punctions since the year 2002 torank among the youngest spiritual centres in Moldova,although people have been worshiping the All-Mightyin this place for more than 150 years. Brothers Feodorand Anastasios Ciufea made once their mind to erecta white stone church with 9 domes. Feodor Ciufeapassed away aging 58 years before construction on the church was completed. His brother took over theworks. The church was consecrated in honour or GreatMartyr Theodore or Amasea (Tirone).
The first Superioror the church was archpriest Ioan Butuc.In the year 1870 Anastasios Ciufea deceasedaging 69 years old. He deserved great respect by thetown residents and the church immediately got itspopular name "Ciufea". When in the epoch or sovietgovernment religion was oppressed and all churcheswere closed, the Central Cathedral (located in theCentral Cathedral Park) was turned into an exhibitionhall.
To replenish the loss, the Church "St. Gr. Mr.Theodore Tirone" became the principal temple or thecountry in 1962.In 1970s, the Church "St. Gr. Mr. Theodore Tirone"saw an overhaul lasting for more than 18 years.
Therestoration or unique frescoes executed in Vasnetsov'sstyle was supervised by master Burbela. The southernapse "Intercession or the Theotokos" was constructedduring the reparation.People come here to worship the unique miracle-working icons or Our Most Holy Lady Theotokos andEver-Virgin Mary or Harbovet and Kazan, the relics or Great Martyr and Healer Pantaleon, Saint Seraphim or Sarov, Antipa or Athos, Job and Amflohiy or Pochayivand many others. In the year 2000 the believers fromSerbia presented a particle or the relics or Great MartyrTheodore or Amasea (Tirone) that reside now in theconvent in the silver reliquary.The Ciufea Church was bestowed with thestatus or convent in the year 2002.
CONVENT "ST. GR. MR. ThEODORETIRONE",
12 Ciufea str., Chisinau.Tel.: (+373 22) 27-82-66, mob.: (+373) 691-22-848


HELPFUL INFORMATION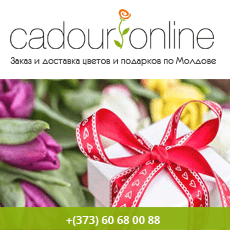 TELEPHONE NUMBERS OF TAXI SERVICES IN CHISINAU
☎14002 ☎14111 ☎14428 ☎14100 ☎14333 ☎14747 ☎14499 ☎14555 ☎14911 ☎14101 ☎14000 ☎14110 ☎14250 ☎14441 ☎14444 ☎14005 ☎14554 ☎14800 ☎14004 ☎14120 ☎14222 ☎14006 ☎14090 ☎14442 ☎14007 ☎14098 ☎14448 ☎14008 ☎14999 ☎14474 ☎14545 ☎14700 ☎14777