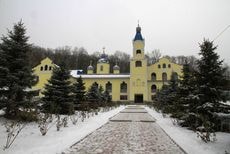 Monastery "Veveriţa" is a recently formed monastic settlement, situated on the outskirts of the village with the same name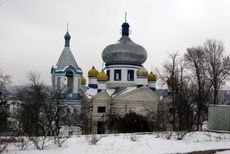 Bocancea Monastery is located in the village of the same name, Singerei district, 105 km from Chisinau, 40 km from Balti.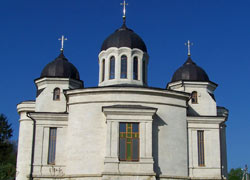 The monastery was established in the years 1773 - 1775 by Boyar Iordache Curchi from Marazini settlementonto the lands that once belonged to his grandfather.At first, the principle temple or the cloister was awooden church. Yet, to the turn to XIX century amarvelous temple was erected that remained for longspan the highest temple in Moldova (32 metres). Thereare suppositions that the temple was constructed bythe project or the great architect Bartolomeo Rastrelli.
In the year 1811 a seminary was opened by themonastery, a printing house was founded and a vastlibrary was formed. The year 1844 saw constructionon the winter church. All these erections have survivedall the calamities till nowadays. While in the year1938 the construction works or St. Nicolas Churchwere started that were completed just several yearsback.
Curchi Monastery was one or the largest and therichest: the cloister owned 2,000 ha or land, 7 lakes(only 3 have been preserved), forests, vineyards, whilethe refectory provided places for 1,000 or persons.In the year 1958 the monastery survivedoppression and closure. A hospital for mentally insanewas established in its premises. And only to the turn to2000s the patients or the hospital were transferred toanother medical institution.
The monks, who residedin a neighbouring premises, immediately took overconstruction and restoration or the monastery. TheGovernment or the Republic or Moldova and privatecompanies provided sufcient funds for rehabilitation.Today Curchi Monastery appears before its visitors andpilgrims in all its glory.

MONASTERY "NATIVITY OF ThE MOSThOLY THEOTOKOS",
Curchi Village or Orhei region.Tel./fax: (+373 235) 33-333, fax: (+373 235) 54-642,mob.: (+373) 691-44-329


HELPFUL INFORMATION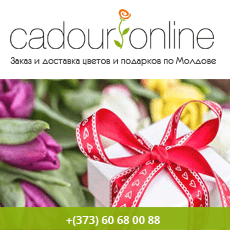 TELEPHONE NUMBERS OF TAXI SERVICES IN CHISINAU
☎14002 ☎14111 ☎14428 ☎14100 ☎14333 ☎14747 ☎14499 ☎14555 ☎14911 ☎14101 ☎14000 ☎14110 ☎14250 ☎14441 ☎14444 ☎14005 ☎14554 ☎14800 ☎14004 ☎14120 ☎14222 ☎14006 ☎14090 ☎14442 ☎14007 ☎14098 ☎14448 ☎14008 ☎14999 ☎14474 ☎14545 ☎14700 ☎14777