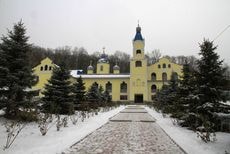 Monastery "Veveriţa" is a recently formed monastic settlement, situated on the outskirts of the village with the same name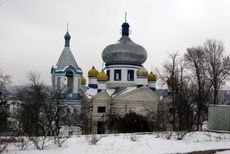 Bocancea Monastery is located in the village of the same name, Singerei district, 105 km from Chisinau, 40 km from Balti.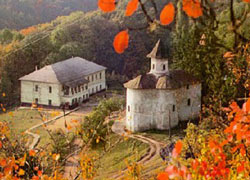 Rudi Monastery (or Rughi) Rudi is located in the village, district Donduşeni on the Nistru river at a distance of 15 km from town Otaci. It is a nunnery. In 1777, the estate Andronachi brothers Theodore and relatives, with financial support from Knoll Donciul merchant, built a stone church dedicated to Holy Trinity, in Moldavian style. Owner Michael Bogus, grabbed Rudi family estate, and more ruined monastery, taking the life force, orchard, apiary, pastures. Bogus family was buried on the territory of the nuns left the hermitage in 1846, which currently maintains a grave stone in the left side of the church, with the inscription of the name "Michael Bogus, who died in 1856. Next to him are his daughters graves.
On the left wall of the narthex of the church is found another gravestone inscription: "Here rest the bodies of the founders of the sanctuary and Andronachi Rudi Theodore. The decision left the church diocesan authorities Rudi hermitage is closed in 1846, and once under the supervision of the parish in the village of Lower Rudi. Later, the owner gets some Michael Rose, close relative of Bogus, converting the monastery to housing for servants. Over time, the monastic complex was abandoned. Houses collapsed and were destroyed.
Monastery resumes on 24 October 1921, Archimandrite by striving Alison Bessarion, was approved and its restoration. In 1948, Archpriest Benedict Chisinau, was forced by the Soviets to close the monastery. Holy tabernacle wealth was confiscated, and the monks fled to other monasteries. After it was installed in the convent orphanage, and later in fiziatrie hospital for children with school. Holy Trinity Church was used as a warehouse. The hospital was closed in 1990, a year deserted monastery. In 1992, the monastery came and sat three monks: Father Melchizedek and two monks from Romania. In 1993, begin reconstruction of the monastery. Over a year, began restoration of Holy Trinity Church Summer.
Rudi Monastery is a special character by its Moldovan architecture, reminiscent of medieval Moldova century churches. XVI-XVII. The church is clubs, having its walls three feet thick. Lies in the south porch of the church and the tower is supported by semicircular arches stacked system, sometimes called "Moldovan sky." Most of the nuns here are young. But they do not eat meat, something strictly forbidden by the rules of the monastery. Instead, every lunch, necessarily, serve a glass of red wine each, useful for force and health. Chop beats waking up at 5 am, and fighting is almost midnight. In preparation for bed, maicele spend the evening hours or reading holy books, or devote themselves to manual work. Because of the dawn again to praise the Lord and with patience and humility, to pray for all our sakes.
CONVENT "ST. TRINITY"
Rudi Village or Soroca region.Tel.: (+373 251) 93-544, mob.: (+373) 671-93-544


HELPFUL INFORMATION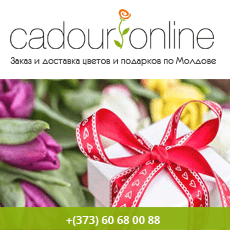 TELEPHONE NUMBERS OF TAXI SERVICES IN CHISINAU
☎14002 ☎14111 ☎14428 ☎14100 ☎14333 ☎14747 ☎14499 ☎14555 ☎14911 ☎14101 ☎14000 ☎14110 ☎14250 ☎14441 ☎14444 ☎14005 ☎14554 ☎14800 ☎14004 ☎14120 ☎14222 ☎14006 ☎14090 ☎14442 ☎14007 ☎14098 ☎14448 ☎14008 ☎14999 ☎14474 ☎14545 ☎14700 ☎14777