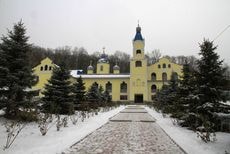 Monastery "Veveriţa" is a recently formed monastic settlement, situated on the outskirts of the village with the same name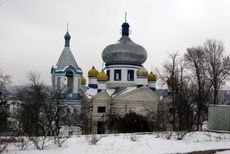 Bocancea Monastery is located in the village of the same name, Singerei district, 105 km from Chisinau, 40 km from Balti.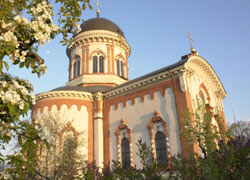 New Neamt Monastery is located in the village Chitcani, Slobozia district, located on the right side of the Danube, not far from town. Bender.
New Neamt Monastery, now the largest religious architectural complex of the Republic of Moldova. History of the Lavra Monastery Neamţ is linked by the river Prut, which was one of the greatest centers of medieval Moldavian culture and education. Thus, after the monks were forbidden to spend the religious services in Church Slavonic language, they escaped in Bessarabia and in 1859, moving to Chitcani. New Neamt Monastery was built for nearly 50 years. Ascension Temple and Bell council were designed in 1864 by an architect in St. Petersburg, whose name remained unknown until now. At the beginning of sec. XX, and bell tower were built with five floors above the gate, refectory, kitchen stone, hospital, a building with two floors for baldness. An incredibly beautiful setting, which leads to the temple, is the alley of oaks, with figures carved into tree trunks novices.
The composition of all the monasteries at the moment within four temples: Assumption Church (Church of Winter), raising the Lord Holy Sobor (church summer), the temple of St. Nicholas (Church of the seminar) and the Ascension of the Cross (church refectory). The Ascension Temple relics were kept so holy relics, which were sent in but at the end of sec. Nineteenth century by the Patriarchs of Jerusalem and Constantinople, as well as the miraculous icon of Our Lady, which is overlaid with gold. made by the founder of the monastery. Monastery library has almost 2,000 old books, hand written and printed, many of which have been preserved.
Currently, besides working monastery church and printing workshop. In the monastery he lived one of the parents of Bessarabia Improve - Selafiil father, who returned to the monastery in 1997, his native village of Ascension Church is kept in a coffin with bits of several holy relics.


HELPFUL INFORMATION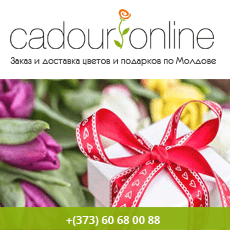 TELEPHONE NUMBERS OF TAXI SERVICES IN CHISINAU
☎14002 ☎14111 ☎14428 ☎14100 ☎14333 ☎14747 ☎14499 ☎14555 ☎14911 ☎14101 ☎14000 ☎14110 ☎14250 ☎14441 ☎14444 ☎14005 ☎14554 ☎14800 ☎14004 ☎14120 ☎14222 ☎14006 ☎14090 ☎14442 ☎14007 ☎14098 ☎14448 ☎14008 ☎14999 ☎14474 ☎14545 ☎14700 ☎14777