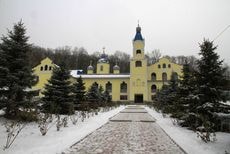 Monastery "Veveriţa" is a recently formed monastic settlement, situated on the outskirts of the village with the same name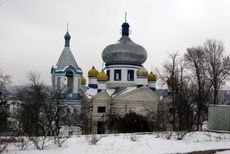 Bocancea Monastery is located in the village of the same name, Singerei district, 105 km from Chisinau, 40 km from Balti.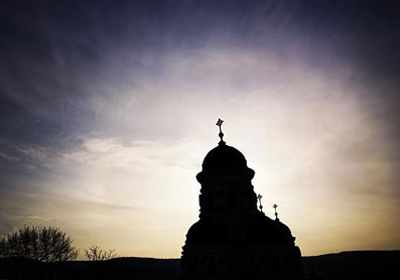 Monastery Chiştelniţa officially was founded in 1994, the font Orhei village, about 75 km or 27 km from Chisinau Telenesti. Initially these places in 1856, he built a church dedicated to Holy Archangels Michael and Gabriel, sitting in the middle of the village cemetery. Thick walls built of stone is half a meter. After repairing the old church cemetery, they built a small church dedicated to Saint Great Martyr Panteleimon winter, stuck to the old church. But in the Soviet period was closed and abandoned. It has a small porch, a square bell tower that rises above.
In 1992, the monastery founded a school of singers, this lack of space but is later transferred to a former tabărăde rest near the village Zaharovca, Telenesti. Once vacant building abbot and a few cells are organized. The vicarage was repaired and used as a refectory. After the official recognition of the monastery in 1994 and opens a section for teachers.
The monastery also has a winter church, dedicated to St. Panteleimon. In this church one can enter the Holy Archangels church porch. Dreptutunghiular Church has a plan, without distinctions between the narthex and nave. The interior is painted, the walls are adorned with icons.


HELPFUL INFORMATION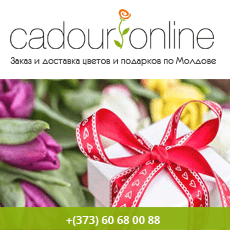 TELEPHONE NUMBERS OF TAXI SERVICES IN CHISINAU
☎14002 ☎14111 ☎14428 ☎14100 ☎14333 ☎14747 ☎14499 ☎14555 ☎14911 ☎14101 ☎14000 ☎14110 ☎14250 ☎14441 ☎14444 ☎14005 ☎14554 ☎14800 ☎14004 ☎14120 ☎14222 ☎14006 ☎14090 ☎14442 ☎14007 ☎14098 ☎14448 ☎14008 ☎14999 ☎14474 ☎14545 ☎14700 ☎14777