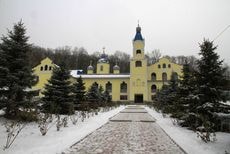 Monastery "Veveriţa" is a recently formed monastic settlement, situated on the outskirts of the village with the same name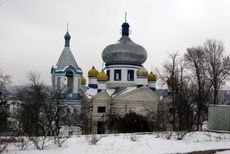 Bocancea Monastery is located in the village of the same name, Singerei district, 105 km from Chisinau, 40 km from Balti.
Balti possesses a unique historical heritage. Importance of historical monuments in the city's evolution proves the need to preserve and revitalize cultural and ideological potential unique patriotic, who created and accumulated throughout history.
The Directorate register Balti culture are introduced 42 monuments, of which 10 - history, 18 - Architectural, 7 - Archaeology, July - culture.
Cultural venues in the city include:

Vasile Alecsandri theatre


the oldest surviving building, a two-stories boyar house, presently right in the centre of the downtown area, dates back to 1609, but it has been re-constructed and re-modelled many times with total disregard to conservation to the extent that now it simply looks like an odd two-storey building.

Monument of Stephen the Great (2003)

others (see down through the text)

Churches:

Saint Nicolas Church, Bălţi (1795). Although Orthodox, the building, financed by Gheorghe Panaiti, has a degree of catholic influence brought in by the architect Antuan Weismann from Galicia.

Saint Constantine and Elena Cathedral, Bălţi (1934), Orthodox, built in neo-Byzantine style. The building, at which official opening the Romanian royal family was present, survived almost without visible effects the harsh treatment during the Soviet era, when it was for most of the time a depot, later to be turned into the municipal museum.

Bishopric Palace, Bălţi (1924–1932), which during the Soviet time was the main office of the agricultural enterprise-institute "Selectia", and the surrounding park

Saint Parascheva Church, Bălţi (1933), by the bishop Visarion Puiu

Archangels Michael and Gabriel Church, Bălţi (1912–1933)

Saint Peter and Paul Church, Bălţi (1915–1929)

Armenian Saint Gregory Church, Bălţi (1916)

Birth of the Blessed Virgin Mary Church (1884)



HELPFUL INFORMATION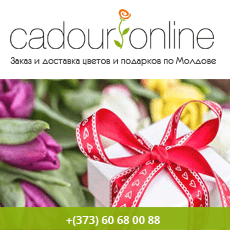 TELEPHONE NUMBERS OF TAXI SERVICES IN CHISINAU
☎14002 ☎14111 ☎14428 ☎14100 ☎14333 ☎14747 ☎14499 ☎14555 ☎14911 ☎14101 ☎14000 ☎14110 ☎14250 ☎14441 ☎14444 ☎14005 ☎14554 ☎14800 ☎14004 ☎14120 ☎14222 ☎14006 ☎14090 ☎14442 ☎14007 ☎14098 ☎14448 ☎14008 ☎14999 ☎14474 ☎14545 ☎14700 ☎14777